Mondial Relay
Sales price without tax
59,00 €
For France, Spain, Luxembourg and Belgium. Create your shipments, and print your labels.
Mondial Relay's is a delivery solution of pick-up point. Your customers will have the choice to have packages delivered to France, Spain, Luxembourg and Belgium.





The plugin displays a widget to easily select the pick-up point:
Mondial Relay for VirtueMart functionalities
Enter a price list per Country and weight dependent
Offer shipping cost for orders above a certain amount
Full configurable widget
Offer Mondial Relay only if an order is above a certain amount or if the order is below a certain amount
Create delivery and printable labels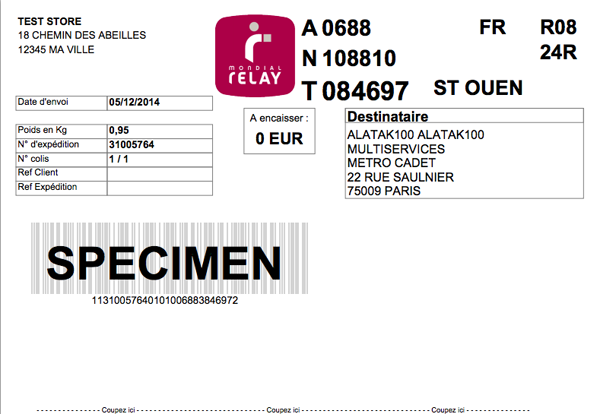 Post a review
I used this to

Actuellement : Virtuemart3.0.12 et Joomla 3.4.5
Plug-in véritablement indispensable et bien conçue pour le e-commerce avec Virtuemart et Mondial Relay.
en cas de besoin n'hésitez pas ça marche bien !

Functionnality

simple à utiliser pour le client en quelque clics le choix du point relais est effectué

Support

Alatak apporte aide et soutien "TRÈS PRO !" en un mot : confiance

Documentation

Toute la doc est dispo sur le site d'alatak

Value for money

il y à du travail en dev et l'aide apportée est précieuse
plgvm_alatak_mondialrelay_3.0.1.zip
Version 3.0.1 (17 avril 2020)
Affichage des logos dans les emails
correction pb dans la conversion des poids ,
prise en compte du pays par defaut de la config ,
correction liste de selection des pays
Version 3.0.0 (28 Janv. 2020)
Major release: New version, compatible with virtuemart 3.6 and higher
Version 2.0.7
FIX: VMPATHROOT pour anciennes versions de VM2
Version 2.0.6
FIX: creation etiquette: suppression dans l'adresse des caractères comme (, ! , * ...
Version 2.0.5
FIX: Message d'erreur lors de la création d'etiquette amélioré
Version 2.0.4
Version 2.0.3
FIX in the weight when creating labels
NEW Added a parameter to include or not the Mondial relay CSS
FIX in Jquery (conflicts with mootols)
Version 2.0.2
FIX Using new Mondial Relay protocol and URLs
Version 2.0.1
NEW Nouveau système de grille tarifaire plus simple à saisir
NEW Ajout de la génération d'étiquettes
NEW Ajout Suivi de colis

Platinium since 2012