SoColissimo Fléxibilité
Sales price without tax
80,00 €
So Colissimo Flexibilité Parcel Delivery France and Belgium, with label printing, and parcel tracking.
So Colissimo Flexibilité is a shipment plugin that allows you to select Parcel Shops from the La Poste network in France and Belgium:
Post office (France ou Belgique)
Local Store (France ou Belgique)
It uses the La Poste web services. Please make sure you have the rigth contract before buying this plugin.
Cityssimo, Local store and Post office options integrates Google Map to help your client finding the correct parcel.
Parcel shops closed during the withdrawal period are indicated on the map
Full information of the parcel are recorded inthe order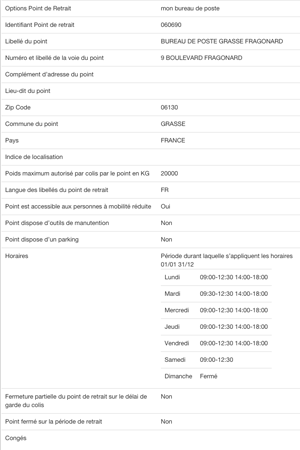 Batch generation label
Generation of one label, downloading label, and tracking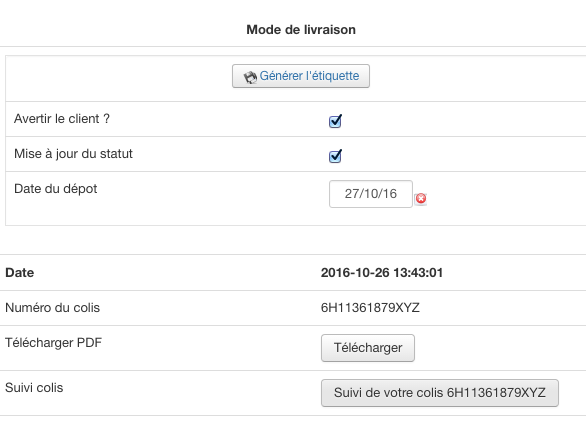 Post a review
Functionnality

facilement mise en place

Ease of use

RAS

Support

très reactif et sympatique en plus !

Documentation

simple

Value for money

logique
plgvm_alatak_socows_2.2.3.zip
Version 2.2.3 (24 Janv. 2018)
Fix: compatibilité avec php 5.6.x
Version 2.2.2 (3 Janv. 2018)
Fix: Erreur lorsque les options ne sont pas précisées
Version 2.2.1 (21 dec. 2017)
Fix: affichage de la carte avec Firefox
Fix: Numéro de portable de l'adresse de facturation enregistré dans l'adresse de livraison, nécessaire pour les étiquettes
Version 2.2.0 (17 nov. 2017)
New: Geolocalisation permet d'afficher la carte même sans avoir préciser d'adresse
New: Compatible VP One page checkout
Fix: L'impression des étiquettes ne se fait que pour les points relais. La possibilité de créer des étiquettes pour les livraisons à domicile se fait par un autre plugin qui est plus complet
Version 2.1.0
New: nouveau Template
New: affichage des points de livraison modal ou inline
Version 2.0.2
New: possibilité d'imprimer des étiquettes pour d'autres plugins: weight_countries et proshipment
Version 2.0.1
New: système de grille tarifaire plus simple à saisir
Fix: nouveaux logos demandé par Colissimo
New: ajout de la génération / impression d'étiquettes
New: ajout Suivi de colis

Platinium since 2012