The UPS Shipping and Labels plugin for VirtueMart creates Shipping labels based on the product weight of the order, shipping destination. It is a service available for a lot of countries around the world.
Create your UPS account
You probably have already a UPS profile. If you do not , you will first need to create one at UPS's website. While registrating, note of the User ID and Password you enter; you will need them to configure the shipment plugin.
From the My UPS › Account Summary page click the Open a UPS Account link, then click the Open a UPS Account today link.
To request an access key, while still logged in to your UPS profile, go to the UPS Developer Kit site, and click the Request an access key link.
Check with UPS that your account type supports shipping labels.
Installation of the UPS Shipping and Labels plugin
Install the plugin via the Joomla installer
Once the plugin has been installed, you can go directly to http://yourwebsite.com/administrator/index.php?option=com_virtuemart&view=shipmentmethod
Create a new shipment method by clicking on the new button
Enter a shipment name
Select in the Shipment Method parameter alatak_upslabels
Click on the Save button
The UPS Shipping and Labels plugin is a shipment plugin that will only be displayed on the order view in VirtueMart. It does not display data on the frontend.
Click on the Configuration tab
Configuration of the UPS Shipping and Labels plugin
Account Parameters
| | |
| --- | --- |
| Integration or Production | Integration Environment is used to test and debug by simulating transactions. Once your application has been thoroughly tested, you can use the UPS Production Environment. |
| API Key | is a 16 character alpha-numeric code given by UPS |
| User Password MyUPS User ID | are the ones from your UPS account |
| UPS Shipper Account Number | The UPS Shipper account number is required |
Labels Options
Setup the default values used for shipping or labels
Insured value
If this option is activated, the product prices is sent to UPS, and UPS adds a shipping insurance the rates (more expensive).
Destination type
The options are:

Auto: depending on the ship to address, the plugin will automatically set the correct destination type,
Commercial
Residential

Negociated rates
Some UPS customers may have negotiated special rates for their shipments that differ from the UPS published rates. Set this option to Yes if your account is authorized for negotiated rates.
Packaging
Select the kind of packages you use for shipping.
Weight Unit for UPS, Dimension Unit For UPS
Those options depend on your country
Template position
The UPS shiiping and Labels plugin can be displayed on the top of the order view, or at the bottom in the shipment section
Create Shipping labels
On the administration, select VirtueMart > Orders, and then click on the order that you want to send via UPS to view the order details. Depending on the option Template position, either on the top, or on the shipment section at the bottom left of the order view, the following is displayed:
If you are using the UPS rates to display the rates, the plugin will grab some of the settings from it, and prefill the options
The dropdown options are the one that you have selected in the plugin configuration
If you select Package/customer supplied , you can specify the box dimensions. The box measurements are set in the configuration
Insurance and Adress validation have as default value the ones from the configuration
Select the UPS service and click on Confirm Shipment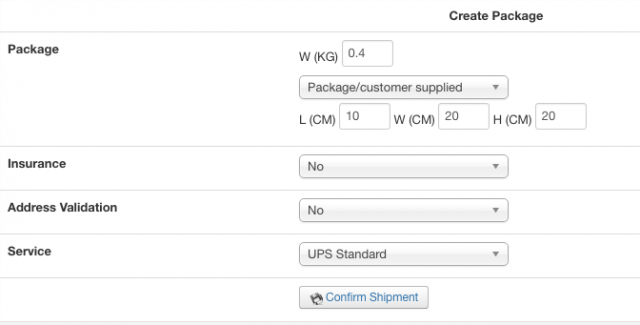 Once the shipment has been confirmed, you can accept the shipment

Once the shipment has been accepted, you can either download the label or void the shipment

The order status has been updated, and email has been sent to your client containg the tracking number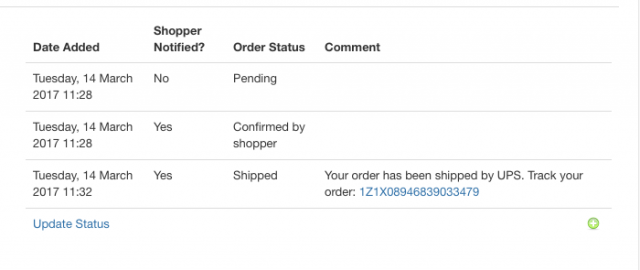 Label sample
Algeria
Angola
Argentina
Australia
Austria
Azerbaijan
Bahamas
Bahrain
Bangladesh
Belgium
Bermuda
Bolivia
Brazil
Bulgaria
Burundi
Cameroon
Canada
Cayman Islands
Chile
China
Colombia
Costa Rica
Croatia
Czech Republic
Denmark
Djibouti
Dominican Republic
DR of Congo
Ecuador
Egypt
El Salvador
Estonia
Ethiopia
Finland
France
Germany
Ghana
Greece
Guatemala
Guernsey
Honduras
Hong Kong
Hungary
India
Indonesia
Ireland
Israel
Italy
Ivory Coast
Japan
Jersey
Jordan
Kenya
Kuwait
Latvia
Lithuania
Luxembourg
Macau
Malawi
Malaysia
Mauritius
Mexico
Morocco
Mozambique
Netherlands
New Zealand
Nicaragua
Nigeria
Norway
Oman
Pakistan
Panama
Paraguay
Peru
Philippines
Poland
Portugal
Puerto Rico
Qatar
Romania
Russia
Rwanda
Saudi Arabia
Serbia
Singapore
Slovakia
Slovenia
South Africa
South Korea
Spain
Sri Lanka
Sweden
Switzerland
Taiwan
Tanzania
Thailand
Tunisia
Turkey
Uganda
United Arab Emirates
United Kingdom
United States
Uruguay
US Virgin Islands
Venezuela
Vietnam
Zambia
Zimbabwe